Image 01

Image 02

Image 03

Image 04

Image 05

Image 06

Image 07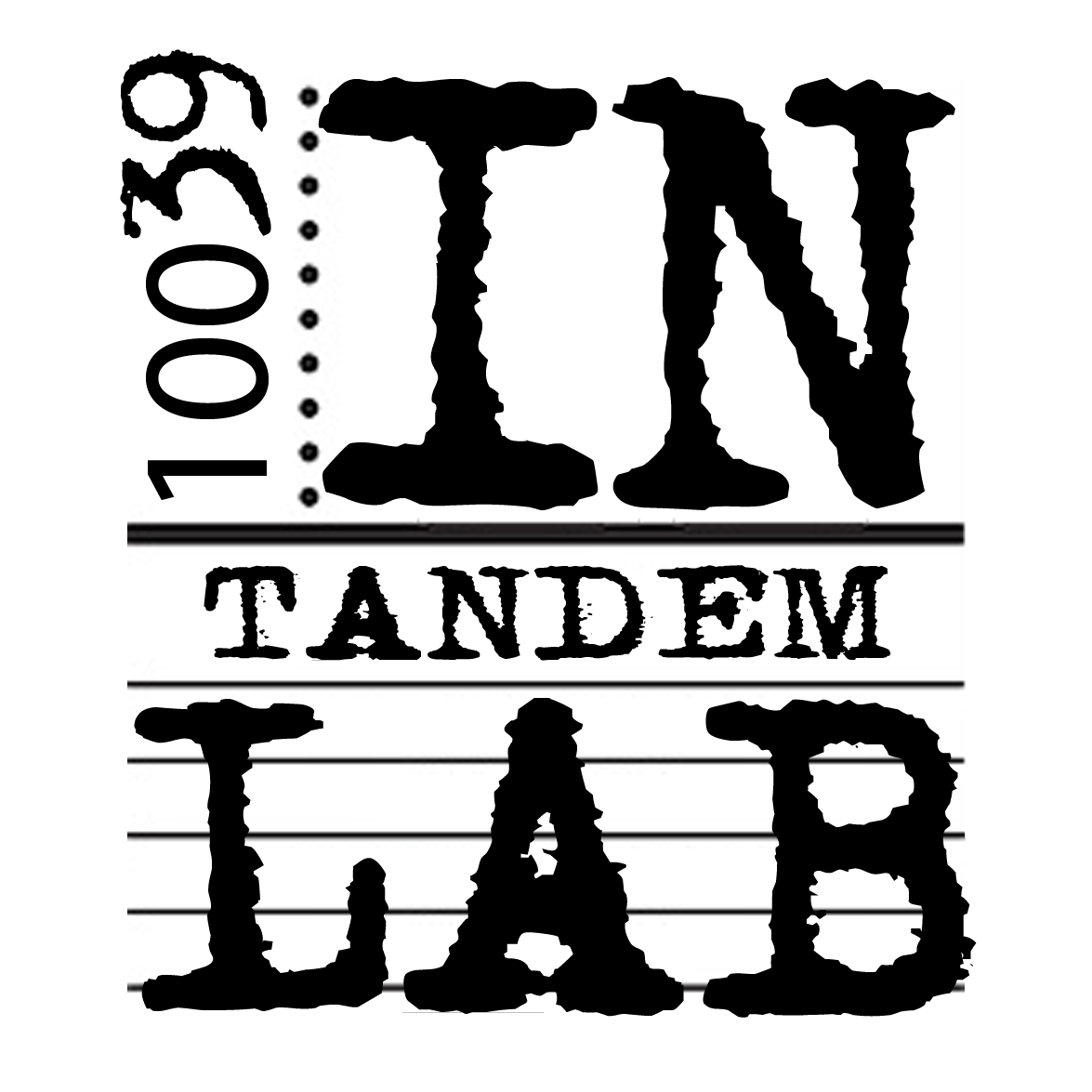 INSTRUCTIONS TO DECODE A(N IN)HUMAN TRANSFORMATION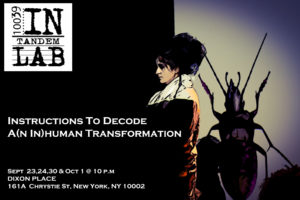 Dixon Place will present InTandem Lab's Instructions to Decode A(n In)human transformation, a postmodern punk "roach" Kabaret inspired by Franz Kafka's The Metamorphosis. Written in verse by Gisela Cardenas and delivered as spoken poetry by a cast of three, I2Decode explores the intertwining of live music, video mapping and words. Ryan Justesen (Playwrights Horizons/NYU) will direct the inaugural production under the artistic direction of InTandem Lab.
I2Decode portrays the protagonist of The Metamorphosis, Gregor Samsa, on a high ride after his transformation into a bug. Interspersed seamlessly throughout the piece, Milica Paranosic's wild, eerie and sensual score is played by an electronic cello, which takes the audience on a journey from the wildness of a punk rock kabaret to the subtle underscoring of the bug's world.
"I2Decode is a meditation on human change and transformation from the point of view of one of the most irritating yet invulnerable omnivores around: roaches," said Artistic Director Gisela Cardenas. "It is a sampling of InTandem Lab's ambition in offering audiences an alternative theatergoing experience. The production integrates materials from classical literature and revamps it with multi-media technology, an original punk rock score and razor-sharp text."
I2Decode will play four performances only on September 23rd, 24th and 30th and October 1st at 10:00pm at Dixon Place (161 Chrystie Street). Tickets are $15 in advance, $18 at the door, and $12 for students and seniors, and can be purchased at www.dixonplace.org or by calling (866) 811-4111 or (212) 219-0736. More details at www.dixonplace.org/performances/instructions-to-decode-an-inhuman-transformation-2/
FEATURING
Artists InTandem For I2Decode:
Derya Celikkol, Katie Proulx, Sarin Monae West
CELLIST
Polina Bakhtina
CO-CREATED & WRITTEN BY
Gisela Cardenas
CO-CREATED & DIRECTED BY
Ryan Justesen
PRODUCING DIRECTOR
Vivian Chiu
COMPOSER
Milica Paranosic
ORIGINAL PHOTOGRAPHY
Yifu Chien
IMAGE COMPOSITION

InTandem Lab
THE ARTISTS
Gisela Cardenas has directed, performed and written in the UK, Germany, Peru, Romania, Brasil, The Netherlands, Norway and USA. Awards: Princes Grace Theater Fellowship, Women's Project Director's Lab, TCG/ NEA Career Development Program. Has an M.A in Performance Studies (NYU) and an M.F.A in Directing (Columbia University). Recent credits: Aeschylus "Agamemnon" (Drama Desk Nomination);"Antigone" ("Sibiu International Theater Festival—Romania), Euripides' Medea, Brecht's In The Jungle of Cities, Richard III in Norway, Weskler's "The Kitchen", Fassbinder's Katzelmaher, Peter Asmussen's "Nobody Meets Anyone" in Brazil. Devised work in development: "Carmen" and a play about organ transplantation.
Ryan Justesen faculty at NYU/Tisch (Playwrights Horizons). Credits include: The Ohio Theatre, The Kitchen, PS122 and others. Hemingway's "The Old Man and the Sea" at the O'Neill-NTI. Currently developing "The Russian Poet Prefers….", based on the writings of Edouard Limonov. Studied with SITI Company (Saratoga & NYC). MFA: Columbia University.
Milica Paranosic is a critically and internationally acclaimed composer, performing artist and educator. Milica holds a Masters Degree in composition from The Juilliard School, where she has been on the music faculty since her graduation. Her work was commissioned by major NYC organizations such as the American Composers Orchestra, New Juilliard Ensemble, and Buglisi Dance Theater and has appeared on stages of Symphony Space, Zankel Hall/Carnegie, Alice Tully Hall/Lincoln Center, BAM café, Bohemian National Hall and many others. International and intercontinental highlights include BEMUS (Belgrade, Serbia), EtnaFest (Catania, Italy) and Internacional De Música Contemporânea, (Bahia, Brazil).
Vivian Chiu has appeared in the Broadway International tour of David Henry Hwang's Chinglish at Berkeley Repertory Theatre, South Coast Repertory and the Hong Kong Arts Festival. Selected New York credits include Agamemnon, directed by Gisela Cardenas at Vortex Theater Company; Limbs: A Pageant at Here Arts Center; and an off-Broadway revival of Night Over Taos, directed by Estelle Parsons at Intar Theatre. Her TV and film credits include The Blacklist, Beijing, New York, OVUM, The Heart She Holler, Infinite Challenge (Korean MBC networks).
Derya Celikkol is an actor, writer, director based in New York. Born in Istanbul, Turkey, she moved to New York to find a new home at the Experimental Theatre Wing of the Tisch School of the Arts, from where she graduated in May after producing her original play, BITE. During her time in New York, she has been in many productions including works of John Jesurun and Pascal Rambert as well as many films. She is interested in making her own work which focuses on being as precise as possible while leaving space for the audience's own journeys.
Katie Proulx is an actor, movement director, and teaching artist based in Brooklyn. Favorite roles include Pol/Gilly Bomb in Before You Get Too Far Afield, Diane in The Thugs, and Miranda in An Evening With Ladley and Craig. Katie works as a teaching artist with Opening Act New York and the CUNY Creative Arts Team, and is learning to play the mandolin. A proud graduate of the Brooklyn College MFA Acting program, she is thrilled to be part of Instructions2Decode.
Sarin Monae West is grateful to be alive and thriving in New York City right now. Sarin was most recently seen as Selin/Allison in "Head Over Heels" with RSKITAL theatre company, and at Maria in "Vanishing Point" with the International Fringe Festival. She is a proud alumni of Oklahoma City University, the National Theatre Institute and the British American Drama Academy. Thank you to Gisela and Justin for this incredible opportunity to play and to work! Thanks to Mom and Dad for their constant support.
Instructions To Decode A(n In) Human Transformation2 from InTandem Lab on Vimeo.
Save
Save
Save
Save
Save
Save
Save